In 7 steps to your B2B Online Marketing Strategy
Article at a glance:
It's easy to stand out from the competition. Only 30% of B2B companies use multiple online channels or customer communication.
The own website can become the best instrument to initiate contacts.
An online marketing strategy supports your distribution and increases sales.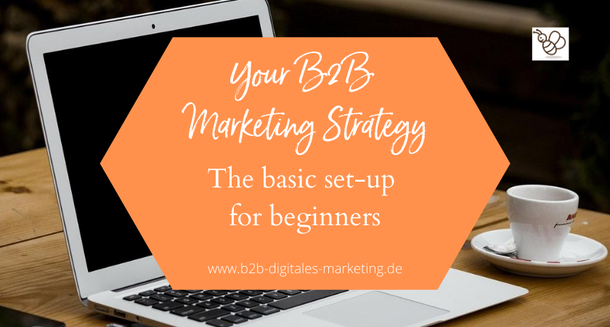 Admit it, you do it too! We all do research on the Internet. Before, during and after an investment. It follows that every company must have a digital marketing strategy. Because: Every potential customer is active on the net and therefore approachable. However, the online channel is not equally promising. Therefore, a strategy is needed to bundle resources to the relevant channels.
The 2019 Digital Marketing Monitor Study offers important insights into the reality online for B2B companies: [[Link: https://www.absolit.de/studien/digital-marketing-monitor]]
Users navigate between different channels. Companies must invest in cross-channel measures and coordinate them sensibly.
70% of B2B companies in Germany do not communicate with their customers on multiple online channels. 

         

30% of all companies do not generate customer enquiries via their own website.

         

60% of all companies pay for advertising banners.

 

         

18% of B2B companies use expensive display ads.

 

         

Only 48% use e-mail marketing, but mostly only hand-knitted. Only every third company has professional e-mail marketing.

Conclusion: Often digital marketing in B2B is only used on the side. At present you can easily and cost-effectively stand out from the competition.
Would you like to strategically position yourself to reach customers better than the competition? In this three-part series of articles I will show you how to do it. 
The 3 most important requirements for digital marketing success
The basis of everything is the infrastructure. That means you need a web presence. Best of all, you have an email marketing program and tools with which you can implement a blog or newsletter, for example.
The nice thing about online marketing is that you can control a lot. You track user numbers and user behavior with appropriate analysis programs on the website. When a newsletter is sent, you can see which articles are clicked on how often. The analysis also shows you which websites are visited how often at which times. Do the users read the whole website or are they only interested in parts of it? Google Analytics, for example, provides information on this. Accordingly, you know what the users want to read and can react to it. For this reason, analytics is a basic requirement for a digital marketing strategy.
And finally, it is about producing content that can be found on the Internet and searched for by your potential target group. This content must provide answers to acute problems and can take various forms such as:
Whitepapers
E-Books
Flyer
Infographs
Articles or Blog Posts
Assistance tools such as checklists, explanatory videos, instructions
Catalogues
and many more
Three main channels of your marketing strategy (two of them are free!)
If infrastructure, analytics and content are in place, communication with the target group can take place via three important levels: owned, earned or paid media.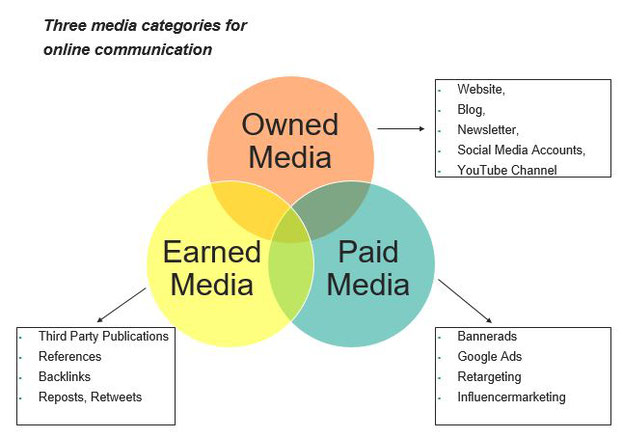 "Owned" media are all channels that you own, such as:
Your website
Your company account auf twitter, facebook, LinkedIn, Xing and other social media
Your company's YouTube channel
Your regular newsletter or company blog
"Earned" media refers to media resonance that you have earned through excellent content:
Other sites link to you
They are mentioned in specialist reports or other media
Your contributions on social media are shared voluntarily
A backlink to your website from a professionally important page is very valuable, as it is recognized by the search engine and leads to a high ranking. It goes without saying that your content is only referred to if it is useful, comprehensive and helpful. In order to attract exactly your target group, it should be directed to exactly these target customers. More detailed information on this can be found here shortly.
"Paid" are the communication channels for which you pay. These are, for example, paid ads on Google or advertising banners on platforms in so-called affiliate marketing. There you can place banner ads for your offers in an environment that suits your target group.
With the abundance of technical terms in marketing, it is difficult to keep track. But strictly speaking, there are only three areas and three categories in which you move. These we call the marketing stack: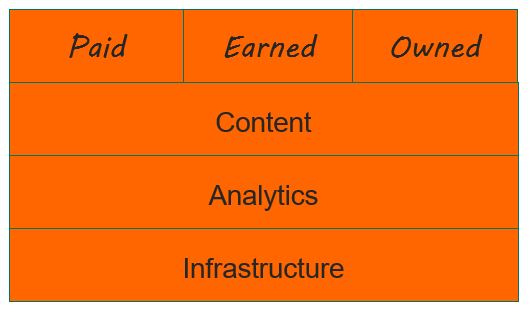 Step by step to a digital marketing strategy
 The following graphic shows all the steps that will lead you to a sustainable marketing strategy.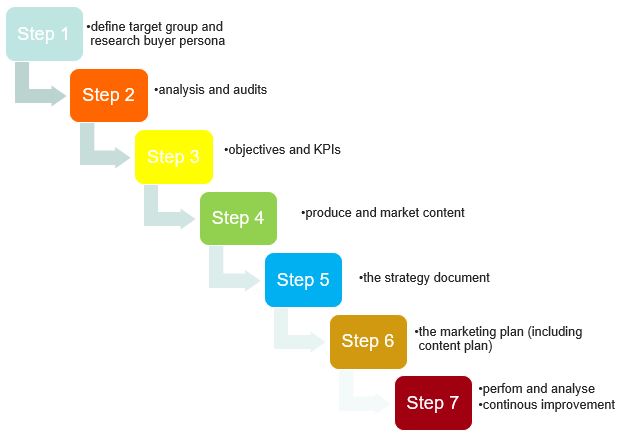 First and foremost is the definition of the desired customers:
Who is your offer aimed at?

Who needs your products and services? 
There are various contact persons at the desired customer. The more complex the service or product sold, the more people are involved in the purchase. The contact persons at the customer have different tasks, from technical buyers to secretaries to managing directors or product managers. The respective function is always linked to specific expectations. In addition, the role holders have different characteristics. The identified roles with their characteristics are called Buyer Personas. Sometimes they are also refered to as Avatars or just Personas. The Buyer Persona is an important tool in marketing to take a differentiated view of the needs and requirements on the customer side. Since this topic is so important, I dedicate a separate section to it in a chapter shortly. We need this information before we can move on to the analysis phase.
In the second step to the digital strategy, an inventory of the existing infrastructure, analysis tools and the content is evaluated. Our aim is to evaluate its suitability for the selected buyer personas. Technical and structural aspects of the website, which ensure findability in Google, can be audited here too. In this way, you can find out strengths and weaknesses that you should consider in your marketing strategy.
You then define goals and key figures for them. Once you know the user numbers of your various media and how many experts link back to your content, you can set appropriate targets. Possible goals can be:
A

chieve an increase in the number of users on the websites of the top sellers

Create whitepapers targeted at the most important buyer personas

Advertise white papers via Google Adwords and in the owned media channels

i

mprove the technical errors of your website in order to achieve better results on Google

g

enerate 15% more contact requests via your website forms

many more KPIs are possible
This point leads us directly to the next step, in which content is developed corresponding to the buyer personas and target values.
Which content is required?
How does this information get to the target customers?
And what format must the content have?
Which additional measures are useful to make the content findable?
To forge these building blocks into a coherent strategy, the marketing and content plan is still missing. More details on that you will find in part 3 of the article.
In the sixth step we create the operative marketing plan. This translates the strategy into individual measures with which we achieve our goals. The measures must be implemented and reviewed. Changing conditions or new insights require constant adjustments. It is a neverending learning process.
The content plan finally sets out all the content that is to be created for the benefit of the customer. It also defines the marketing of the information across channels and target groups. The implementation of the content plan, which is a kind of editorial plan, is anchored in the marketing plan through appropriate actions.
---